Re-printed by permission of the author (Dziekujemy Martin). The original text appeared in POLe Magazine edition #1 -- the Magazine on Poland and Polish America - Highly Recommended site :)


NET OFFERS PLENTY POLISH RESOURCES
But First You Have to Know How & Where to Look!
Martin Miszczak
---
Even two years ago, it would take days if not weeks to gather timely information on Poland, but now the cyberspace offers you all these goodies in just seconds. And best of all, it's free. Well, you still have to pay your internet provider's fee and the phone call charge. But once you stomach that expense, the possibilities of internet—virtually speaking—are endless.
---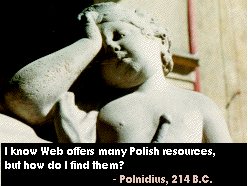 You can start surfing the Polish cyberspace in two ways. First is an information-specific and time-efficient approach for which you need search engines which you can find on Yahoo directory. Here you can choose among half a dozen of such engines, but my personal favorites are Lycos and WebCrawler. Lycos by far lists more web pages than any other search engine (when I ran a "Polish" query, I received over 4000 hits). Lycos searches also contain short descriptions which is nice when the link's titles are not self-evident. While WebCrawler lists fewer links (the "Polish" query resulted in less than 700 hits), I use this engine frequently because it is often faster than Lycos and because it does not include short descriptions so more hits fit on one page for faster browsing.
---
The second way to search is more time consuming, but a lot of fun. This is good, old-fashioned surfing. For this approach, you need two things: several gateway pages (think: virtual tourist information centers) and a strong cup of coffee. Keep also in mind that surfing sometimes beats searching. This is because the Web world DOUBLES every 4 months, and you might find a page that's not catalogued. Ok, enough. Let's SUUUUUUUUUUUURF.
---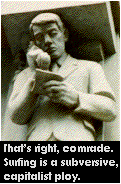 The best place to start is the Polish Home Page which organizes nearly 200 links into useful subtopics. Personally I like to surf through Warsaw's galleries and visit various tourist sites.

But sometimes the overseas links are not as reliable, so the second best thing is to find a site with relevant information closer to home. One of my favorites is the Poniecki Foundation's Polonica Archives which is also available in gopher format. Similar to the Polish Home Page, this University of California archive contains many interesting links. My favorite, though, are Poniecki's searchable archives. Here you will find back issues to some 20 publications on Poland and engaging archives on Polish-Jewish relations. Also, don't miss the RealAudio link to the daily updated Polish Radio broadcast (in English). The site will tell you how to download a free copy of the RealAudio player and where you will find radio broadcasts. What's revolutionary about this is that you no longer need to download audio files to your own computer but instead you can play them straight over the internet.

In addition to the Poniecki Foundation, several other Polish-American web pages offer general links you might want to explore. Since I am a big proponent of simplicity (few tasty graphics because most people still use slow dial-up modems), my favorite gateway is Boleslaw Dworzak's Polish Connections. This bi-lingual directory based in Canada contains nearly 100 alphabetized links to all things Polish — some of which you won't find anywhere else. If some of the links are not working (I found quite a few), then try Zbigniew Pasek's Polonica Collection where, among others, you can view the new Polish money, download the Polish anthem and read about Kieslowski's films.
---
Polonia Channel is another gateway for anything Polish. The site's graphics are quite impressive, but they take ages to download and the English version of the page is still underdeveloped. When visiting the site, I suggest you turn off your Netscape's "Auto Load Images" or find your favorite copy of WIRED.

Polish Home Page in the USA is another good place to start. Based in New York, the site offers flight schedules for the Polish Airline LOT and money transfer information by the Polish Bank PEKAO. My favorite section, though, is the "Polish Personal Home Pages" which already lists close to 100 pages and where you can instantaneously add your own.

With a distinctive windy city flavor comes the Polish-American Home Page. While this page does not offer links to Poland, here you will find information on the Polish television in Chicago as well as links to Polonia Bookstore and 2B magazine, both Chicago-based.

I saved the Polish Homepages for the last and for good reason. If you explored the above mentioned sites first, by surfing to Polish Homepages you will appreciate what a well-balanced yet attractive design can accomplish. With mirrors both in Australia and the US, this site includes some of the best pictures of Poland I have seen online. The guest book where you can add your comments is also top notch. The server, albeit, is sometimes busy so be patient....
---
Finally keep in mind that many resources are neither listed (search engines) nor are they linked to Polish directories discussed above. In the next issue, I will focus on Net's Polish Business resources. Meanwhile - happy surfing!
---
---
© 1996 PolishWorld Inc.

visitor to Polish Resources on the Net

Current local time:
Last modified: